May 2021
Monday, 10 May 2021 00:00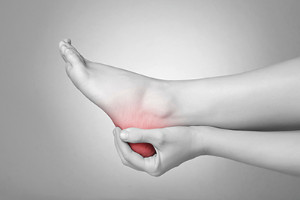 Heel pain can be debilitating, and it can develop due to a variety of causes. While it is most common among seniors, heel pain can occur at any age. The most common cause of heel pain is plantar fasciitis. This occurs when the plantar fascia, the tissues that connect the heel to the toes along the bottom of the foot, becomes inflamed. This causes the tissues to pull on and ultimately stress the heel. Plantar fasciitis can also lead to heel spurs. These occur when there are calcium deposits on the bottom of the heel bone that protrude out. Another common cause of heel pain is atrophy of the fat pad on the heel. Children, especially if they are active, who are suffering from heel pain may have Sever's disease. This occurs when the bones in the calves grow faster than the Achilles tendon, which connects the heel bone to the calf muscle. If you are suffering from heel pain that won't subside, consult with a podiatrist for a proper diagnosis and treatment method.
Many people suffer from bouts of heel pain. For more information, contact one of our podiatrists of Foot Health Center of Merrimack Valley. Our doctors can provide the care you need to keep you pain-free and on your feet.
Causes of Heel Pain
Heel pain is often associated with plantar fasciitis. The plantar fascia is a band of tissues that extends along the bottom of the foot. A rip or tear in this ligament can cause inflammation of the tissue.
Achilles tendonitis is another cause of heel pain. Inflammation of the Achilles tendon will cause pain from fractures and muscle tearing. Lack of flexibility is also another symptom.
Heel spurs are another cause of pain. When the tissues of the plantar fascia undergo a great deal of stress, it can lead to ligament separation from the heel bone, causing heel spurs.
Why Might Heel Pain Occur?
Wearing ill-fitting shoes
Wearing non-supportive shoes
Weight change
Excessive running
Treatments
Heel pain should be treated as soon as possible for immediate results. Keeping your feet in a stress-free environment will help. If you suffer from Achilles tendonitis or plantar fasciitis, applying ice will reduce the swelling. Stretching before an exercise like running will help the muscles. Using all these tips will help make heel pain a condition of the past.
If you have any questions please contact one of our offices located in North Andover, and Tewksbury, MA . We offer the newest diagnostic and treatment technologies for all your foot and ankle needs.
Read more about Heel Pain
Monday, 03 May 2021 00:00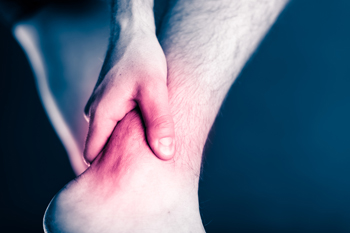 Peroneal tendonitis is a condition in which the peroneal tendons, which run down the lower leg bone and behind the bony bump on the outside of the ankle, become inflamed. This is common among people who play sports that involve repetitive ankle movements and may occur due to overuse, a sudden increase in training, using improper training techniques, or wearing unsupportive footwear. People who have high arches or muscle imbalances are more likely to develop peroneal tendonitis. The symptoms of this condition include pain at the back of the ankle that worsens during physical activity, swelling at the back of the ankle, and ankle instability. If you have pain in your ankles, please consult with a podiatrist.
Ankle pain can be caused by a number of problems and may be potentially serious. If you have ankle pain, consult with one of our podiatrists from Foot Health Center of Merrimack Valley. Our doctors will assess your condition and provide you with quality foot and ankle treatment.
Ankle pain is any condition that causes pain in the ankle. Due to the fact that the ankle consists of tendons, muscles, bones, and ligaments, ankle pain can come from a number of different conditions.
Causes
The most common causes of ankle pain include:
Types of arthritis (rheumatoid, osteoarthritis, and gout)
Ankle sprains
Broken ankles
Achilles tendinitis
Achilles tendon rupture
Stress fractures
Bursitis
Tarsal tunnel syndrome
Plantar fasciitis
Symptoms
Symptoms of ankle injury vary based upon the condition. Pain may include general pain and discomfort, swelling, aching, redness, bruising, burning or stabbing sensations, and/or loss of sensation.
Diagnosis
Due to the wide variety of potential causes of ankle pain, podiatrists will utilize a number of different methods to properly diagnose ankle pain. This can include asking for personal and family medical histories and of any recent injuries. Further diagnosis may include sensation tests, a physical examination, and potentially x-rays or other imaging tests.
Treatment
Just as the range of causes varies widely, so do treatments. Some more common treatments are rest, ice packs, keeping pressure off the foot, orthotics and braces, medication for inflammation and pain, and surgery.
If you have any questions, please feel free to contact one of our offices located in North Andover, and Tewksbury, MA . We offer the newest diagnostic and treatment technologies for all your foot care needs.
Read more about Ankle Pain